City of Flowers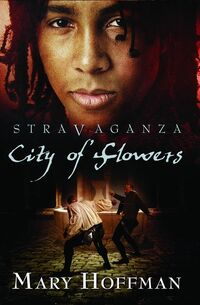 Publication Date
3 October 2006

City of Flowers is the third book in the Stravaganza series by Mary Hoffman. The corresponding short story is An Impossible Task.
"
Perfumes, poisons, swordfights, weddings, jewels and a duel, not to mention several overlapping love stories -- that is City of Flowers. Oh, and fathers. It is a book very much about fathers.
"
The latest story in the Stravaganza series unravels amid ever-more-dangerous politics and intrigue. Sky, a new Stravagante, is whisked away from his dreary life in London to Giglia, the Talian version of Florence. Featuring favorite characters from the first two titles in the series, including Georgia and Falco, as well as a host of exciting new characters, this breathtaking adventure will not disappoint.
But beware-in the beautiful City of Flowers, much that seems beautiful is in fact poisonous...
Characters
Edit
Stravaganti
Edit
Di Chimici
Edit
Other Characters in Talia
Edit
Other Characters in England
Edit
Cover Gallery
Edit
Notes and References
Edit
↑ A Message from Mary on stravaganza.co.uk