City of Ships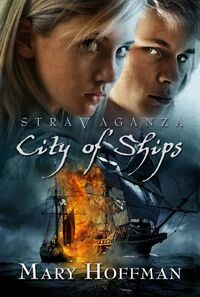 Publication Date
22 June 2010

City of Ships is the fifth book in the Stravaganza series by Mary Hoffman. Its corresponding short story is The Fourth Wise Man[1].
"
What is the book about this time? Not mosaics and ships and pirates and spies, although they are all in there. This time it is about belonging. It's a need felt by almost all human beings, to discover a group, whether of family, friends, colleagues or Stravaganti, where they can feel at home and free to be themselves.
"
The new installment in the critically acclaimed Stravaganza series transports readers to a world much like our own. But where magic and piracy come to life in the Talian town of Classe.
The Stravagante is Isabel, a younger twin by a matter of minutes. Her talisman is a pouch of silver mosaic tiles and she stravagates to Classe, where she is met by Flavia, a successful female merchant who trades spices, silks, tapestries, and whose son is an outcast and a pirate. Isabel finds that Classe and Bellezza are under threat from attack by the fierce Gate people. What can she do to help save the city? This is a thrilling story packed with action, pirates and drama.
Prologue: The Merchant of Classe
1. Imaginary Twin
3. Belonging
5. Exiles
6. The Black Raider
7. Matchmaking
8. Defiance
9. Runaway
10. A Change of Direction
11. Spreading Wings
12. The Life Aquatic
13. War
14. The Prince of Giglia
15. Brothers
16. The Reality and the Dream
17. Andrea's Story
18. All at Sea
19. Out of His Depth
20. The World Turned Upside Down
21. The Gate of the Year
22. Death on the Water
23. The Battle of Classe
24. The Duke
Epilogue: A Part of the Whole
Historical Note
di Chimici family tree
Dramatis Personae
Acknowledgements
Characters
Edit
Stravaganti
Edit
Cover Gallery
Edit
Other Facts
Edit
Beatrice di Chimici marries Filippo Nucci at the end of the book and is disowned by her family[3]
Notes and References
Edit
Early details about City of Ships suggested the Stravagante from Barnsbury would be a boy named Adam (or Alban[4]) and his mentor would be a merchant named Loredana according to the Guide to Talia. Subsequent revisions of the guide revealed the Stravagante would be named Isabel (previously the name assigned to the Stravagante to Montemurato, who was renamed Emily) and Loredana would renamed Flavia.[5]