City of Swords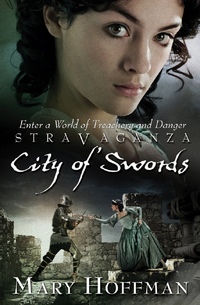 City of Swords will be the sixth installment of the Stravaganza series by Mary Hoffman. Its corresponding short story is Under the Walls.
The main character is Laura Reid, who appeared briefly in the previous book as one of Isabel Evans' friends. She stravagates to Fortezza and her talisman is a silver paper knife[2].
The book was released on 5 July 2012 in the United Kingdom[3]; its North American release will follow on August 21, 2012[4].
"
It is set in Fortezza and there will be a siege and battle and the return of many old friends.
"
"
With City of Swords, there is an important falling in love at first sight...
"
Desperately unhappy, Laura has resorted to secretly self-harming. When she finds a mysterious silver sword, it acts as her talisman and transports her to Fortezza, where she meets the swordsmith Fabio. But Laura also meets the charming and attractive Ludo, and falls for him. However, a serious rivalry is brewing in Fortezza and Laura finds her loyalties dangerously divided when she finds the Stravaganti working to support Princess Lucia's claim to the throne against Ludo's faction, which seeks to overthrow Lucia and allow Ludo to take the Fortezzan crown.
Characters
Edit
Stravaganti
Edit
Di Chimici
Edit
In Islington
Edit
Cover Gallery
Edit
Notes and References
Edit
External Links and Reviews
Edit