Flavia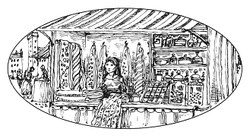 Occupation
Merchant, Stravagante
Age
Unknown (middle-aged)
English/Talian City
Islington, London, England
Flavia is a successful merchant and Stravagante in Classe. A woman with a strong personality and presence, she gets along with most people very easily; as such, she is well-connected with a number of powerful people in Classe.[1]
Flavia appears in City of Ships as an established and wealthy merchant-trader in Classe who is well acquainted with powerful or well-known people, including the Duke of Classe, Germano Mariano. In addition to owning one of the biggest stalls in the market of Classe, she also owns the merchant ship Silver Lady. Prior to the series, she had an abusive husband, and has a son Andrea; unknown to Andrea, he is actually the son of her lover, Fausto Ventura rather than Flavia's husband.[1] Her relationship with Andrea is strained, though she cares for him greatly.
When the Silver Lady is raided by pirates, Flavia begins to sense that trouble is brewing and believes it is time to bring a Stravagante from the other world to Talia to aid the upcoming trouble. The Stravagante who arrives is Isabel Evans, whom Flavia mentors and guides in preparation for the impending Battle of Classe with the looming threat of the Gate People's invasion. During the course of City of Ships, Flavia's relationship with Andrea gradually improves as her son returns from his life at sea as a pirate to work as a spy amongst the Gate People to provide information to Classe.
Following the Battle of Classe, Flavia cares for her son after he is badly injured during the naval battle. During his recovery, she reveals that Andrea's father is actually Fausto, which allows the mother and son to finally reconcile their differences. Flavia and Andrea are briefly mentioned as guests at the wedding of the Duchessa of Bellezza and Luciano Crinamorte[2].
Merchandise
Edit
As a merchant, Flavia sells a number of rare goods from the east from her stall. More expensive items are sold from her house to wealthier patrons.[1]
At her stall
Edit
cardamon
ginger
pepper
cloves
bales of cloth
dyes of almost every color
From her house
Edit
painted pottery, from Western Europa
glass, from Bellezza
marbled paper, from Bellezza
coral, from islands off of Talia
sugar, from the islands off of Talia
silks, from Eastern Europa, and unexplored lands beyond the Middle sea
rarer pigments, from Eastern Europa, and unexplored lands beyond the Middle sea
tapestries, from Eastern Europa, and unexplored lands beyond the Middle sea
woven carpets, from Eastern Europa, and unexplored lands beyond the Middle sea
Notes and References
Edit
Flavia was originally called Loredana (though still a merchant) in the early A Guide to Talia[3]